Smart copy remote control :Can remotely copy TV/DVD(DVD,LD,VCR,VCD) functions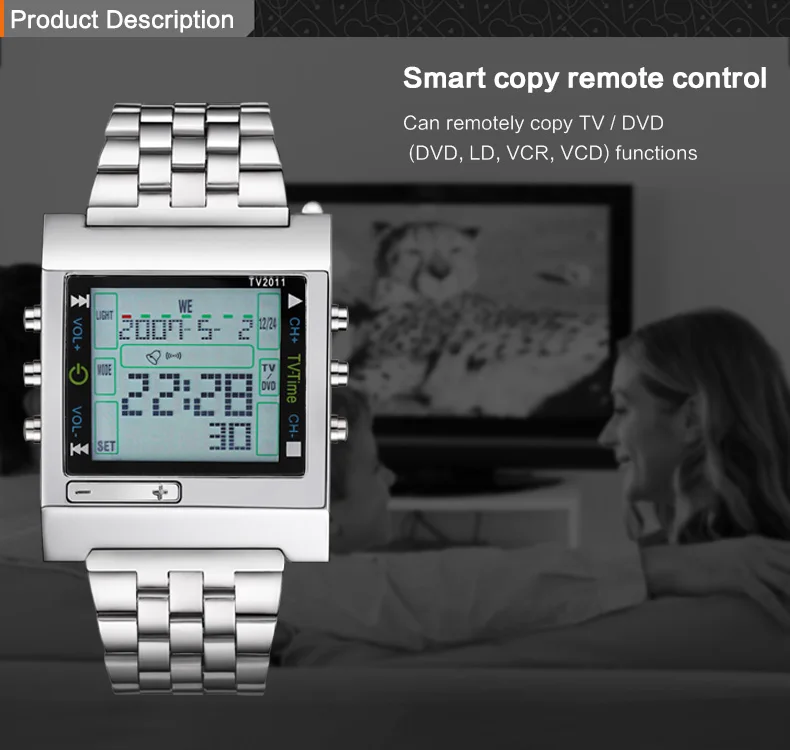 1、Intelligent remote control:Can remote control TV,Set-top boxes,Projectors,smart sockets and so on.
2、Stopwatch timing:Time race against time
3、Alarm clock mode:Smart alarm clock
4、Electronic chip:Durable and lasting
5、Calendar dual display:14/24 hour, fully automatic calendar
6、Luminous display:Pointer + digital display
Sport watch,enrich your life
1、Light: Luminous display
2、 Mode:Alarm clock、Stopwatch
4、TV/DVD:Remote control mode
Normal Display and Luminous display
Use imported LED light film, night time to see the time as long as the left key backlight key can clearly see the time
1. Electronic movement: Electronic movment time quasi, long stamina.
2. Strengthen the glass mirror: Mineral mirror to create, wear scratch-resistant, high hardness, anti-fall
3. Alloy technology: Alloy technology
4、304 stainless steel strap: Wear-resistant,good corrosion resistance.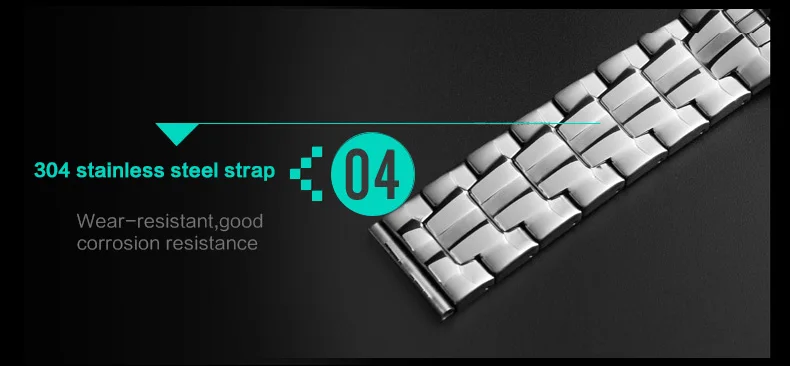 5、Butterfly buckle: Remove,wear more convenient.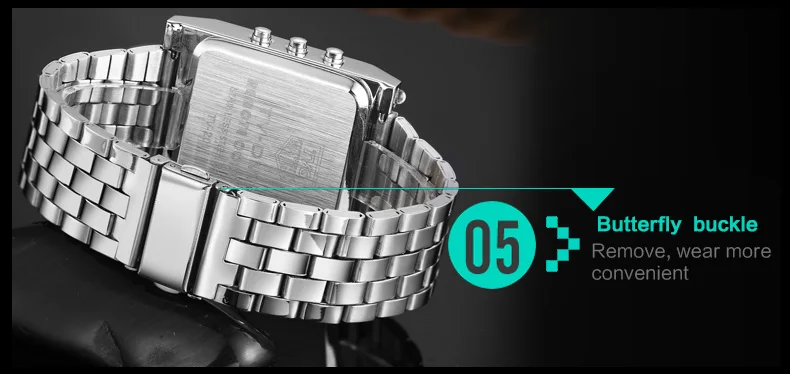 6、LED light display: Just press the ledt key at night that the backlight key can clearly see the time.
Device code Set UP and Auto Search mode
Volume,Channel Switching and Power ON/OFF remote control for several TV,SAT,DVD,LD,VIR,VCD
To control TV set,aim IR transmitter window at receiver of TV set.Transmitting
distance is 9-16 feet with a 30 degree angle tolerance
Real time clock display (12H/24H selectable)
200 Years Calendar and Weeks (1901-2099)
Stopwatch function (Split time measurement)
Case Diameter Approx (cm): 4
Case Thickness Approx (cm):1.2
Ba

nd Length Approx (cm): 21.3
Band Width Approx (cm): 2.2
1 x watch with user manual
window.adminAccountId=119577900;